What Is Talent On-Demand?
Talent on-demand, also known as on-demand talent or on-demand recruiting, is the process of using a recruiting service to provide as-needed or project-based support for hiring new talent.
Put simply, talent on-demand is a service you can turn on or turn up when you need it and switch off when you don't. As a highly flexible professional service, talent on-demand allows organizations to customize their recruiting efforts to best fit their specific needs.
On-demand recruiters help to expand your talent acquisition strategies by acting as an extension of your internal hiring team and listening to and addressing your needs. This helps to create an extremely adaptable hiring process. On-demand experts spend time getting to know your unique culture and needs, working to cultivate a list of ideal candidates that would be excellent fits for your open roles.
When you're spending money recruiting and hiring new talent, you want to be sure that the people you hire and onboard are the best fit for the role. The last thing you want is to hire someone who underperforms or doesn't fit the culture of your team. With talent on-demand, you can expand your talent pool, giving you greater access to better talent.
Unleash Your Secret Weapon To Finding Top Talent: Outsourcing Recruitment Services
The Difference Between Outsourcing Recruitment Services And Traditional Methods
Unlike traditional recruitment firms, outsourcing recruitment services acts as an extension of your company. With a traditional firm, the recruiters act on behalf of your organization, meaning you have less insight and input into their process.
When you use a traditional retained recruiting firm, you are paying a constant rate, regardless of whether you are actively recruiting or not. This means that even if you aren't looking for new talent, you'll be paying a fee for their continued services. When you are outsourcing recruitment services, you only pay for the services you use, not the ones you don't.
Retained firms are often retained for one specific role, leading to a very transactional process. The services are contracted for a fee, which is usually a percentage of the role's salary. Once the role is filled, the relationship is over.
Similarly, working with contingency recruiters can be very transactional. With contingency recruiters, the fee is not paid until the role is filled, creating a possible conflict of interest between the recruiter and the client.
On the other hand, when you're outsourcing recruitment services, you enter into a partnership that can span through multiple roles and many hiring seasons. Billed by the hour, outsourcing recruitment services can be easily budgeted, the ROI is tracked, and the goals of the recruiter and the client are aligned.

With outsourcing recruitment services, you have greater control over the sourcing and recruiting process. Working in collaboration with your team, on-demand partners take care to understand the ideal candidate for your organization. Additionally, on-demand recruiting consultants often offer you greater access to candidate data, helping you to create a talent pool you can refer to in the future.
When Are Organizations Outsourcing Recruitment Services?
Outsourcing recruitment services is a strategic and cost-effective decision that can benefit many organizations. But, it can be challenging to predict when and where you will need the help of third-party recruiters.
When Your Internal Recruiting Teams Are Not Fast Enough
Organizations have always needed to adapt and change to meet the demands of consumers. And, with huge advancements in technology and an increasingly connected and virtual workforce, demand seems to be increasing faster than ever. When organizations struggle to fill their talent gaps in a timely manner, it can have downstream effects on your business functions. If your internal recruiters are taking too long to find and onboard new hires, you might need to look externally for some added support.
When Your Talent Needs Change Quickly
Market dynamics can shift rapidly, and so can your talent requirements. In times of high levels of growth, your organization may need to hire fast to keep up with the increase in demand. As demand plateaus, you might need to scale back to help protect your bottom line. Organizations need a flexible solution for meeting these fluctuating needs, and that support comes from recruiting outsourcing services.
When Your Company Cannot Budget For Internal Hiring Teams
Every organization has a unique budget that they need to adhere to. In some cases, businesses do not have the financial resources to support a fully-staffed internal hiring team. With a flexible billing process and a use-it-when-you-need-it business model, recruiting outsourcing can be highly attractive to companies with smaller budgets. Rather than offering salary and benefits for a full-time internal recruiter, you can pay the on-demand price for an external recruiting expert.
When You Only Need Talent For A Short Time
There are a plethora of reasons why an employee may leave your company temporarily. For some positions, you'll need to be able to find short-term talent to keep your operations running smoothly. Additionally, many organizations find that they need new talent to complete project-based assignments. By using recruiting outsourcing services, you can solve your problems quickly by relying on an external perspective.
How Does On-Demand Talent Help Fill Your Talent Gaps?
On-demand talent helps you fill your talent gaps by customizing the recruiting process to align with your needs. In particularly volatile markets or markets that face unpredicted obstacles, on-demand talent offers comfort in knowing you can adjust the level of involvement as needed.
In highly competitive hiring industries, on-demand recruiting can be used to:
Hire for specific roles — build out your ideal candidate profile and sift through a network of potential candidates who fit the mold.
Keep candidate searches confidential — when fighting over a small number of candidates, you want to keep your recruiting efforts confidential to reduce the level of competition.
Provide consistent support — on-demand recruiters are talent experts you can rely on when you need them most.
On-demand talent experts have experience in engaging with and recruiting all kinds of talent. Whether you are hiring for a management position, a contract-based or project-based role, or a C-suite executive, you can ensure you've got access to a solid group of qualified candidates.
What Are The Benefits Of Recruiting Outsourcing?
When organizations shift away from traditional recruiting agencies, they often set their sites on an on-demand team. In the world of talent acquisition, things move quickly, and organizations need to be able to adapt. Firms that provide recruiting outsourcing can assist with fast adaptation by enabling you to react to specific market needs.



Other common benefits you'll enjoy when you embrace recruiting outsourcing include:
| | |
| --- | --- |
| | It's A Low-Risk Investment |
With an on-demand model, you aren't locking yourself into a contract or paying for services you aren't using. This means that the level of investment, and the associated risk, are not as high with traditional recruiting firms. You'll be keeping your finance team happy and your C-Suite executives content by maintaining a strong return on investment.
| | |
| --- | --- |
| | It Can Scale To Fit Your Needs |
We all know how quickly change can occur. In business, you need to be able to rely on your support system and tools to help adapt to these changes in a timely manner. Are you experiencing a sudden high level of growth? On-demand recruiters are a great tool to leverage in order to find additional talent quickly and support this increase in demand. Have your production levels slowed? You can pause the on-demand services so that you can reduce costs. On-demand firms work alongside you to support your needs at any given stage.
| | |
| --- | --- |
| | It's An Affordable Option For Everyone |
On-demand recruiting firms make recruitment and hiring affordable for everyone. Protecting your cash flow is crucial to keeping your operations running, and no organization wants to pay for lackluster candidates. On-demand experts can help you ensure you hire a strong candidate while keeping the costs associated with finding and hiring them low. Regardless of the size of your budget, on-demand firms can work to help you find the top talent for your open roles.
| | |
| --- | --- |
| | It's Added Value |
On-demand firms are made up of industry experts and recruiters with proven experience and success. By acting as an extension of your internal team, on-demand experts add more value to your existing strategies rather than replace the value you already have. The right on-demand firm provides visible value by populating a talent pool of qualified candidates and saving you money with your recruiting practices.
By outsourcing the job of finding qualified passive candidates, recruiters can spend more time screening, interviewing, and engaging with candidates. And, in a highly competitive hiring market, having the help of an external source for finding candidates is significant. 70% of hiring managers have said it's now harder to attract suitable candidates. Save yourself the time and stress by investing in an on-demand partner!
In 2023, on-demand recruiting will be the key to tackling HR challenges head-on. Why? Because Forbes found that a whopping 46% of HR leaders are making recruiting their top priority, but 36% feel they're short on resources to bag top talent. Plus, another 36% believe they're stuck with tech that doesn't cut it. These predicaments perfectly set the stage to introduce on-demand recruiting - the perfect recipe for flexible, tech-savvy solutions that boost talent acquisition.
What Are The Disadvantages Of Recruiting Outsourcing?
While recruiting outsourcing is a practice with many benefits, there are some potential pitfalls to be aware of. Like every investment, it takes a learning curve to become as collaborative, effective, and efficient as possible. The following two things are common struggles that organizations face when they first start recruiting outsourcing.
Onboarding Can Get Backed Up
With any hiring team, there needs to be a comprehensive onboarding process to ensure your new talent is equipped with the knowledge and tools needed to be successful. This is the same whether the candidate you hire is fresh to the job market or has many years of industry experience. On-demand recruiters often help reduce the amount of time needed to find and hire employees, so your internal team needs to ensure your onboarding process is efficient. The last thing you want is for your onboarding efforts to get backed up, resulting in a longer wait time for employees to maximize productivity.
If You Aren't Careful, Your Goals Can Become Misaligned
When you work with an external hiring partner, there is always the risk of misaligning your goals. While many on-demand partners put forth the proper effort to understand your needs and culture, there is a chance that they may not fully evaluate the kind of values and competencies you are looking for in a new hire. As you begin a partnership with your on-demand recruiter, ensure you provide ample context as to the ideal candidate profile. Start by shedding light on the daily life in your organization along with the mission and values of your existing team and company. This will help to bridge the gap and enable your on-demand partner to recruit a more accurate candidate.
The potential pitfalls of recruiting outsourcing are far outweighed by the benefits your organization will see. By taking the time to communicate your goals and expectations of one another, you can easily build a strong partnership that will save you time and money and will help you source a skilled workforce.
Talent On-Demand Best Practices
When you invest in a talent on-demand firm, you want to be sure that you're making a smart investment. After all, it's your money, and you don't want to see it wasted. To ensure a strong ROI, you need to make a conscious effort to build out a comprehensive and reliable plan. By sticking to the latest best practices for outsourcing recruitment services, you can set your partnership off on the right track.
Create A Roadmap For Success
The best way to set yourself up for success is by creating a clearly defined plan for achieving your goals. What is the overall mission of the partnership? What do you expect from one another? How will you support one another in these ventures? It is important to take the time to sit down and have a transparent conversation. When you both clearly understand what you hope to achieve and how you will get there, you increase the likelihood of a successful partnership.
It's All About The Brand, Baby
Think of all the new technologies and sites that job seekers use today to connect with and research companies. With all the information anyone could ever want or need at their fingertips, ensuring the message and brand you project to others is the one you wish to show is crucial. You need to ensure you're using social media accounts to their fullest potential. Share pictures of employee events, parties, and behind-the-scenes posts to showcase the values and culture of your organization. Curate a strong online presence to contact individuals and promote open positions in your company. A positive employer brand will help you to attract and retain more qualified individuals.
Tell Them Who You Want, Who You Really, Really Want
It takes knowing your ideal candidate to be able to find and hire the right person. Work together with your talent on-demand firm to flesh out this profile before you even begin your search.
Ask yourself:
What level of experience do they have?
Which skills are necessary to do the role well?
How quickly do you expect them to be up to speed on processes?
What timezone(s) can the ideal worker be in?
Is this a role that can be done remotely, or is it in person?
While you fill out the answers to these questions, it will help calibrate the ideal candidate profile. Make sure that your on-demand firm understands this employee profile to avoid wasting time interviewing subpar candidates.
Don't Put All Your Eggs In One Basket
A good talent on-demand partner knows that keeping all your sourcing strategies limited to one platform is a bad move. You'll have much better chances of finding the absolute best fit if you spread your efforts out among a variety of candidate sourcing tools. You can, and should be, promoting open positions at your company on your social media profiles to increase awareness, using employee referral programs to find strong talent from your employees' networks, using great boolean search to find passive candidates, and uploading the job description to multiple job posting boards to cast a large talent net. When you use more than one channel to source candidates, you have more opportunities to find qualified talent that fits well with your company culture.
The ROI of On-Demand Talent
On-demand talent isn't just about filling talent gaps; it's a strategic tool that provides an impressive return on investment (ROI). Here's how:
Cost Efficiency: Traditional recruitment methods can wreak havoc on your budget, especially during peak hiring periods or when you're trying to fill multiple roles. That's where on-demand talent comes in - a service where you only pay for what you need, significantly reducing your overall recruitment expenditure.
Time Savings: The recruitment process, from sourcing to hiring, is notoriously time-consuming. When you use on-demand talent, we take these tasks off your plate, freeing up your team to focus on revenue-generating activities. It's not just a time saver; it's a money saver too.
Reduced Turnover: On-demand recruiters are experts at finding the perfect fit for your company culture and job requirements. By getting it right from the start, turnover rates decrease, saving your organization the considerable costs associated with employee replacement.
Scalability: Need to ramp up recruitment or dial it down? When using on-demand talent, you can adjust your recruitment efforts based on your current needs. No more throwing money at unnecessary recruitment activities during slower periods.
Access to a Larger Talent Pool: On-demand recruiters often have their fingers on the pulse of a larger and more diverse talent pool than your internal team. This means access to higher-quality hires and a more diverse workforce, contributing to improved business performance and, you guessed it, a better ROI.
Data-Driven Decisions: Many on-demand talent services offer detailed analytics and reporting, enabling you to make decisions about your hiring processes based on hard data. These insights can lead to more effective recruitment strategies and better hires, further enhancing your ROI.
The IQTalent Way
IQTalent sets the bar for candidate sourcing and recruiting outsourcing. With over 200 U.S.-based consultants, we can handle any request from anyone. Our adaptable and flexible approach to recruitment saves you time and money, augmenting your internal team and molding to fit your specific needs. When you work with us, our team of experts quickly adds a wealth of advice, expertise, and experience that integrates with your internal team.

Unlike traditional recruiting firms, at IQTalent, we give you full access to any candidate information we obtain. All candidate information and recruiting data we compile is yours, forever. We believe that transparency is crucial for the success of any partnership, which is why we offer you complete access to your data. After working with us, you'll be able to better predict and prepare for future hiring demands, offering you greater control and added resilience in your organization.
And you can't forget about the best part — IQTalent bills by the hour.
Our model is flexible and adaptable, meaning we work on an on-demand basis. We charge you only for the services you use, not the ones you don't. Our business approach makes our services affordable for businesses of all shapes and sizes. You'll be happy with the candidates we find you, and your finance team will be happy with the value we create!

Talent On-Demand Case Study
We get it. You're results-driven, and you want to be sure that you can trust our expertise. But don't worry! After years of experience, we've got the data to back us up.
IQTalent Supports Your Needs, Regardless Of Size
The benefit of operating as a talent on-demand firm is that we have the privilege of helping organizations scale their businesses, regardless of their size. We've helped large companies ramp up hiring, mid-sized businesses expand their human talent, and have even assisted start-ups with building out a strong team to launch their business to the next level. IQTalent's on-demand recruiting model proved to be a perfect match for Mast Reforestation's hiring needs and budget. Assembling a team of consultants swiftly, we bridged the gap between management and potential hires, effectively becoming Mast Reforestation's virtual talent acquisition department.
Our innovative approach allowed us to create candidate profiles, refine job descriptions, map salary expectations, and fill the candidate funnel rapidly. Our consultants found quality candidates who fit the company's culture and mission, achieving an effective cost per hire and an average time-to-hire of under 45 days per role.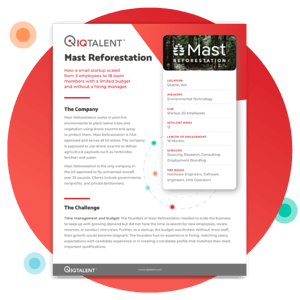 Case Study Download
Read the full case study to see how IQTalent helped this client to find high-quality hires in a quick and cost-effective manner.
With IQTalent, you get a qualified, reliable team of experts to help you reach your hiring goals. Feeling like you're ready to commit to a talent on-demand partnership? Chat with one of our recruiting consultants to see what we can do to elevate your recruiting strategies.