Leading Strategies for Recruiting in Construction and Manufacturing
As the construction and manufacturing sectors boom, the hunt is on for top-notch professionals. However, snagging these high-rollers has turned into quite a challenge in recent years.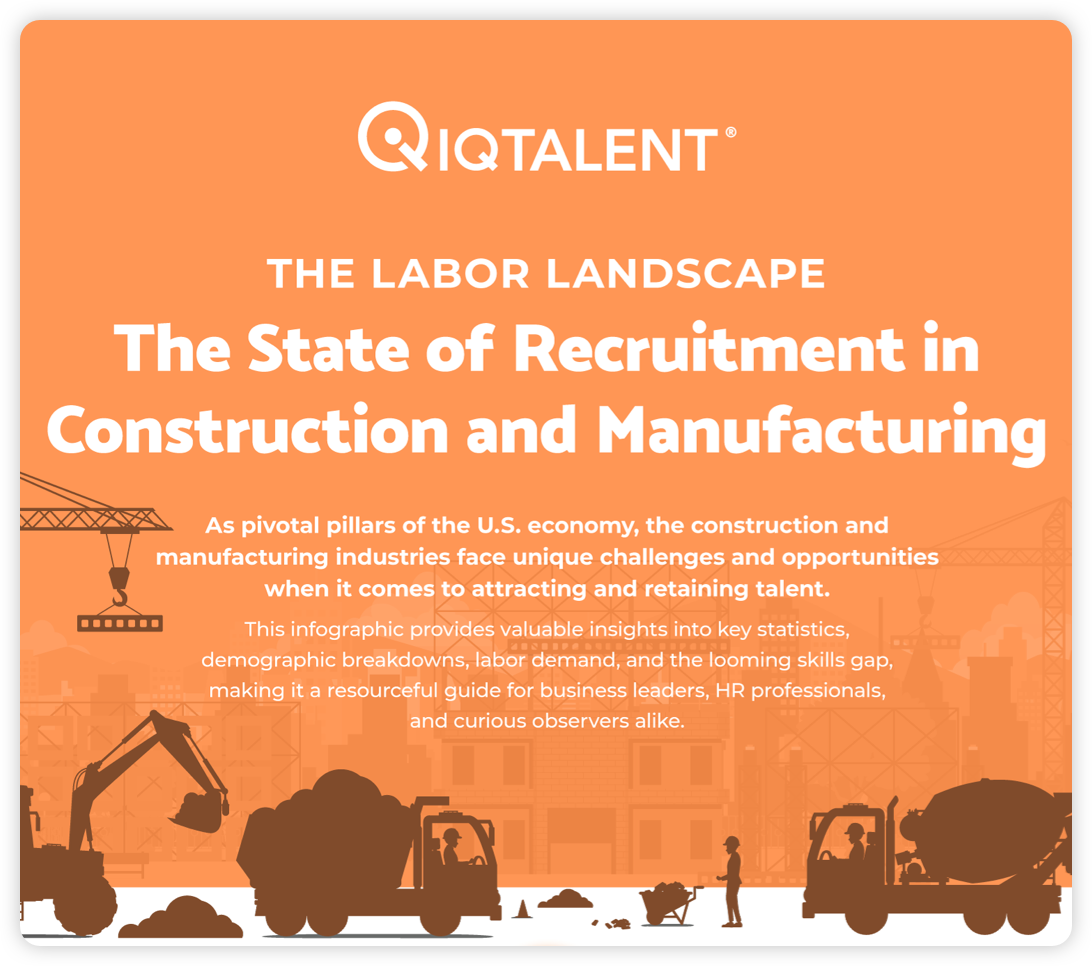 Explore Surprising Recruitment Stats for Construction and Manufacturing
Despite their significant contributions to the global economy, both sectors are grappling with the shortage of skilled labor, which has quickly become a pressing concern.
91% of contractors struggled to fill positions last year, and manufacturers found it 36% harder to find the right talent compared to 2018, despite a nearly doubled unemployment rate.
Deep Dive Into the Current Pain Points in Construction and Manufacturing and Spot Opportunities To Revolutionize the Recruiting Process
With skills shortages and high turnover rates, organizations across the construction and manufacturing sectors are feeling the heat while trying to hire qualified individuals.
July 27, 2023
We Need Your Insight: A Survey For Recruiters In Construction And Manufacturing
This isn't just a survey
; it's an opportunity to amplify your voice, share your experiences, and help shape the future of recruitment within these sectors.
Read More
Explore the Notable Highlights of Our Construction and Manufacturing Index
But that's just scratching the surface.
In reality, organizations are grappling with a plethora of industry-specific challenges when hunting for top talent. In the face of these obstacles, it's crucial for these industries to innovate their recruitment strategies.
Learn From the Masters of the Trade With Years of Experience in Construction and Manufacturing Recruiting, and Grab Actionable Tips and Strategies
The construction and manufacturing industries are morphing at breakneck speed.
The construction and manufacturing industries are morphing at breakneck speed.
Win the Talent War: Strategies for Healthcare Recruiting in 2023
Learn from Industry Experts with Over 40 Years of Combined Experience
Join healthcare recruiting experts Adam Meekhof, Director of Health and Life Sciences at IQTalent, and guest speaker Megan McCall, Head of Talent Management at Stanford Health for an exciting webinar that will give you the tools and strategies you need to attract and retain top talent in the healthcare industry.
Don't miss out on this opportunity to gain actionable insights that you can put into practice right away. Register for the webinar now!
CASE STUDIES
Uncover How Innovative Strategies From IQTalent Have Paved the Way To Incredible Growth and Efficiency for These Construction Firms
The race for top candidates in construction and manufacturing recruitment is fierce. With companies and private practices vying for the best talent, standing out can seem like an uphill battle.
Used by Top Construction and Manufacturing Companies
Stay Ahead in the Competitive Labor Market of Construction and Manufacturing With the IQTalent Index for Unique, Industry-Specific Insights
Even though these challenges exist, there are proven techniques that construction and manufacturing organizations can leverage to overcome these roadblocks and successfully hire top-level talent.
Take the first step today to overcome the difficulties of recruitment in construction and manufacturing and unlock your unrealized potential in these industries.